Daniel Boone
CHOICE – BLACK
For 11 years, GMG's Choice product line has stood the test of time. We've constantly refined and improved it so that you can now own a high-tech, industry-leading pellet grill for a modest price.
Adjust the smoke and temp from 150° to 500°F and keep it there. With a GMG grill, you just "set it and forget it." You can produce succulent food, in your own backyard, that proves you're a pro.
Kick your taste buds into a new dimension!
*Continental USA Prices
Daniel Boone
The Daniel Boone Model comes with a digital control, a meat probe, a peaked lid for stand-up chicken/large fowl/rib racks, a convenience tray with utensil hooks, hard rubber tires, and a venturi-style firebox for cyclone combustion. It also has Sense-Mate, a thermal sensor which constantly monitors the ambient temperature. When the weather gets cold, the sensor kicks the grill into Turbo mode, so you don't have to wait long for the grill to heat up! Other features include a positive pressure hopper fan to prevent burn-back, "fan only" mode with automatic shut-off to blow ash out of the firebox after you finish grilling, a 27×16 (Approx 432 sq. in.) cooking surface, and 13.5" clearance inside. It weighs 152 pounds.
Specifications
Primary Specs
Voltage
110V
Wattage
240W start/60W cont.
Weight
155 LBS
Dimensions
51"H x 56"W x 24"D
Surface Cooking Area
458 sq in.
Auger Motor RPM
4.7~5.2
Fan Motor RPM
0.45A; 4100 RPM
Grease Tray
12 Gauge Steel
Lid
13 Gauge Steel
SS Lid
14 Gauge Steel
Igniter
110V; 240W
Igniter (Hot Rod) Diameter
.625 in.
Height of Cooking Surface to Lid
13.5 in. clearance
Hopper Capacity (LBS of pellets)
17 LBS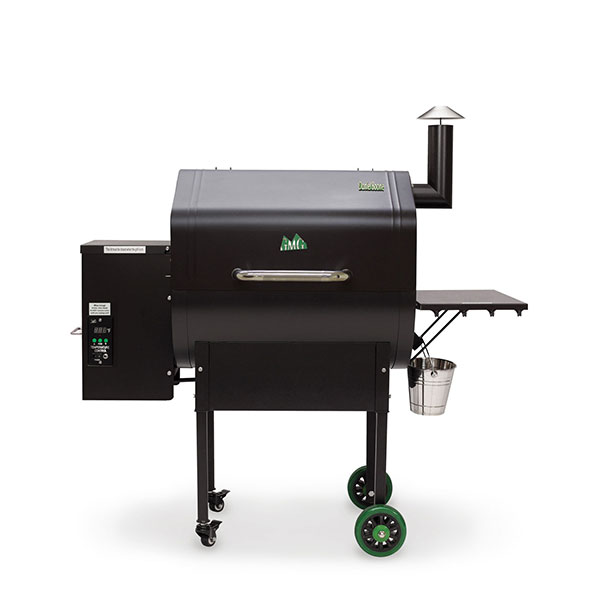 More Details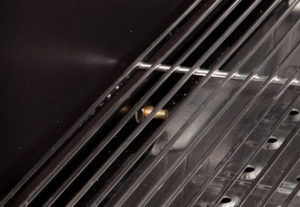 Thermal Sensor
The PT100 Platinum resistance temperature sensor is standard in every unit.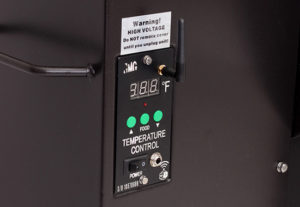 Digital Controller
The GMG digital controller has a temperature range of 150-500° F in 5° increments and 150-550°F on the Davy Crockett. Every digital controller comes standard with a meat probe for instant food readings inside your grill.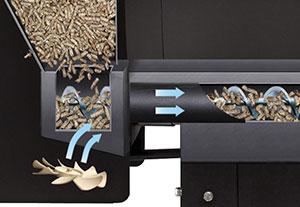 Auger System
The GMG auger system is built with a high RPM motor and designed with optimal torque in mind for a smooth and consistent feed of wood onto the fire.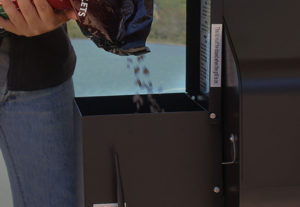 Pellet Hopper
The Pellet Hopper is designed to hold 17 lbs of pellets and feed pellets into the auger. The sloped design makes sure pellets are fed properly into the mouth of the auger.
Grease Bucket
Our grease bucket is all stainless steel.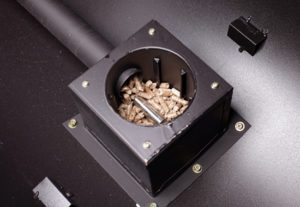 Firebox
Pellets are fed into the Firebox where a hot rod automatically ignites the pellets, and a combustion fan keeps them burning.